Engagement shooting in Lake Como
Few weeks ago we posted an article on engagement shooting in Italy.
Today we want to go more into detail and we've prepared a list of places where you could have a memorable engagement shooting in Lake Como.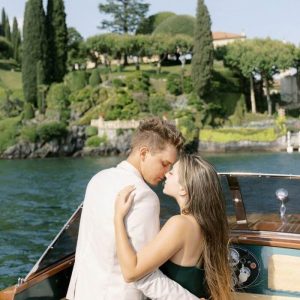 Varenna: Varenna is a picturesque village on the eastern shore of Lake Como. You could have a photo session in its quiet streets
Villa Melzi in Bellagio: the beautiful gardens of Villa Melzi in Bellagio, which run along the water with their green grass, are the perfect setting if you want some romantic images with a touch of glamour. A fee is required to take photo shooting.
Orrido in Nesso: Nessois a little village placed on the eastern shore of the lake, between Como and Bellagio, but is famous for the Orrido, a natural canyon in the rocks. This is a magic place to take unique pictures of your engagement shooting in Lake Como.
Villa Monastero in Varenna: this stunning villa by the lake and its gardens allow you to capture some memories of your stay in Lake Como, it's not everyday you get to return to Italy! Also here at

Villa Monastero

a fee is required for shooting.
Bellagio: Bellagio is one of the most popular villages in Lake Como and it's certainly a great spot where to hold your shooting. Your photographer will be happy to immortalize you strolling in the narrow streets or by the lakeshore.
Villa Carlotta: a sumptuous villa with breath-taking botanical gardens are the ideal backdrop for your couple engagement shooting in Lake Como.

Villa Carlotta

will leave you speechless.
Villa Cipressi: located in Varenna, this hotel is an excellent option for your photo shooting or also for an intimate elopement or wedding.
Villa del Balbianello: this Villa is situated on a promontory looking out over the lake and is home to stunning panoramas and wonderful botanical gardens. It seems too beautiful to be real and that's why is one of the most popular venues for events in Lake Como.
Needless to say that a boat ride is a must while on Lake Como for your pictures.
Our talented photographers will accompany you and take the best images during your engagement shooting in Lake Como. They will be more than happy to give you also suggestions of the best spots and times to shoot to have the best light.
Just get in touch with us if you're planning your couple shooting!