Activities to do while in Tuscany
There are so many activities you could do while in Tuscany for the celebrations of your exclusive wedding. We've prepared for you a list of the top 5 you can't miss during your stay in this popular region.
Florence
The City of Renaissance is an open-air museum, its city centre is full of old monuments and churches you absolutely need to see. Just to name a few, the Duomo (cathedral) with Giotto tower and its Baptistery, Palazzo Vecchio (town hall) and Signoria Square, Ponte Vecchio (the famous bridge with jewellery shops on it), Pitti Palace and Boboli Garden, Santa Croce Church, Sant Maria Novella Church, Santo Spirito Church. There are 2 museums we suggest you to visit: Uffizi Gallery (with famous Michelangelo and Botticelli's paintings) and the Academy (where the original statue of Michelangelo's David is). Everything is walking distance here, prepare to get lost in the narrow streets and immerse yourself in history and art. If you like to walk a little bit further, you can reach Michelangelo Square, from where you can admire a breathtaking view on the whole city, and going uphill the beautiful San Miniato Church. We highly recommend to spend at least 2-3 days in this stunning city.
Chianti region
In the activities to do while in Tuscany we couldn't forget the main things this region is famous for: vineyards and red wines. Dedicate one day to visit some wineries in the Chianti area, have wine tastings in a Chianti Classico property and book a typical lunch with paired wines.

 Siena and San Gimignano
Spending one day in these two places can be a really good idea.
Siena is a wonderful city located south of the Chianti region and it's well know for it's square, Piazza del Campo, where the legendary Palio (historical horse race) takes place twice a year in summer. During your stay in Siena, you could visit the Gothic Cathedral of Santa Maria Assunta, Palazzo Pubblico and Torre de Mangia (tower you can climb) in Piazza del Campo.
San Gimignano is a medieval village on the way to Siena from Florence. A stroll down this small town is required, as well as a visit to its famous towers, cathedral and Piazza della Cisterna.
Lucca and Garfagnana
Take a walk or ride the old city halls, explore the pretty city center enclosed in them with its shops, the cathedral and the nice Roman Amphitheatre square. Lucca is definitely worth a visit. In addition, if you like nature, woods, waterfalls we suggest you to go to the Garfagnana area, where you could visit some small villages, caves, go for a walk, canyoning or rafting and more.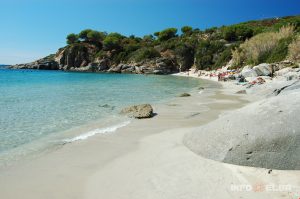 Tuscan beaches
Maybe not everyone knows that Tuscany is not just hills and old cities but also amazing beaches and islands.
If you love beach clubs it's recommended that you go in Forte dei Marmi, Versilia and Viareggio, where you can find stylish bathhouses. While if you prefer wild beaches, you could head south from Livorno and you will find sandy or rocky beaches and coves. Our favourite places to be on the coast are San Vincenzo, Follonica, Castiglione del Lago or Argentario peninsula, from where you can reach hidden gems.
However, if you have at least 2-3 days you wish to keep for some relax and seaside, Elba island in the Tuscan Archipelago is a gorgeous place with crystalline waters you absolutely can't miss.
This is just a tasting of the activities to do while in Tuscany but we'll be happy to suggest you much more. Just send us a message