Ideas for a Tuscan-inspired wedding
Are you excited to learn some unique ideas for a Tuscan-inspired wedding? Whether you're hosting a destination wedding in Tuscany or would like to recreate the romantic Tuscan atmosphere for your wedding reception and ceremony at home, read further!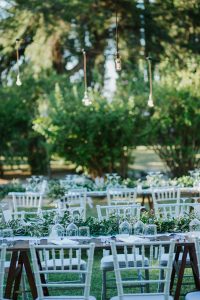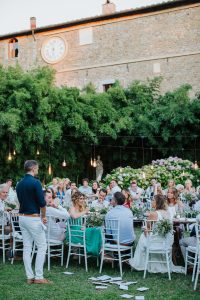 These are the best ideas to make your big day look more Tuscan:
Use a country wooden table and wooden chairs for your reception to make everything more rustic
Olive trees and vineyards are everywhere in Tuscany. Some ideas for a Tuscan-inspired wedding would be using these typical plants for your table centrepieces or for your ceremony arch. What about a wedding arch made by olive leaves, white and coloured flowers? Or a full runner/garland with the same type of decoration on a long wooden table? Another solution would be to create centrepieces for round tables with vine leaves and grapes.
The main colour in your wedding palette will definitely need to be green, with different shades, as it recalls the Tuscan countryside and hills.
Other ideas for a Tuscan-inspired wedding would be to add some cypresses, vineyards and olive trees in your invitations, RSVPs, menus, place cards and stationery in general.
If you've decided to go with olive trees, you could place 1 or 2 leaves on the napkins on the table.
For the bridal bouquet, bridesmaids' bouquets and button holes, add some olive leaves.
If you're thinking to welcome gifts for your guests to be placed in the rooms or guests favours for the wedding table, some ideas we can give you for a Tuscan-inspired wedding would be to arrange small bottles of olive oil or wine.
Tuscany is the homeland to famous red wines such as Chianti and Brunello di Montalcino. Make sure to select a good Tuscan wine for your dinner!
Have some Tuscan deli meats and cheeses during the aperitif, paired with a Tuscan red wine.
String lights will be perfect on top of your table(s) for an alfresco dinner.
Have a couple shooting with vineyards, cypresses and olive trees as a background.
We're convinced that when your guests will see all your ideas for your Tuscan-inspired wedding they'll be breathless!
Contact us for more ideas!