Rehearsal dinner in Italy
Assuming you're having a destination wedding in Italy, we're sure you'd like to host a rehearsal dinner with your close ones! Here we want to give you some ideas for a rehearsal dinner in Italy.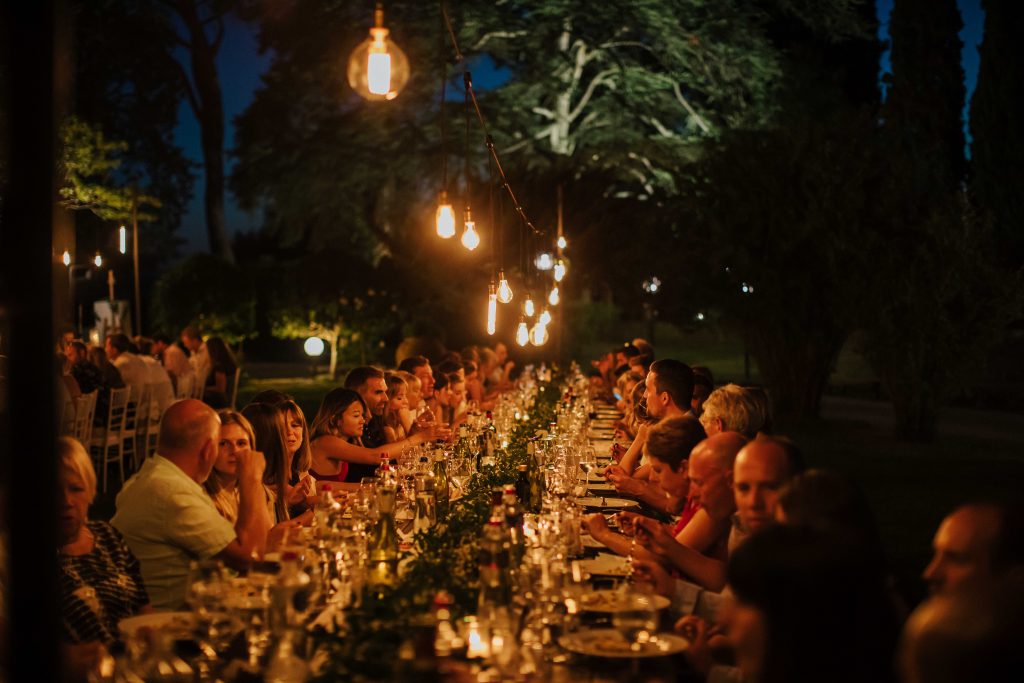 Traditionally, the rehearsal dinner was given the night before the wedding by the parents of the groom. Everyone in both families was invited to the dinner, and it was a more formal affair.
Nowadays rehearsal dinners are sometimes more casual. Generally speaking, you should invite immediate family members, the wedding party and out-of-town guests that travelled a long way. Speeches are typically given by the father of the groom and members of the wedding party that won't be speaking at the reception the next day. For destination weddings, we noticed that most of our couples invite all the guests that will attend the wedding day. That's because they want to thank anyone for coming from abroad to their special event and want to spend more time with people that don't see very often.
Of course, your rehearsal dinner in Italy shouldn't compete at all with the actual wedding. Anyway, this doesn't mean that you can't have fun, drink some wine or eat delicious food. As you're in one of the most beautiful countries in the world, you can decide to throw your rehearsal dinner in Italy in the same venue where you're getting married (this frequently happens when all the guests stay on-site), in a restaurant or in another venue you could book specifically for this event.
What we often propose to our spouses is something informal and Italian for their rehearsal dinner in Italy. What's more typical and funnier than having a pizza party with your families and friends? You could make your own pizza with your favourite flavours and accompany it with a local beer or wine. Another option would be a BBQ with grilled meat, steaks, sausages and vegetables in a country location. Or even a stylish "apericena", a mix of an aperitif/cocktail hour and dinner, with a big buffet, drinks and many finger food/canapés. For those who want to stay classical, it's always possible to plan an elegant seated dinner.
When it comes to décor and entertainment, you can decide if you want to arrange some floral decoration, lighting, live music and much more for your pre-wedding night. Whatever you'll do for your rehearsal dinner, try not to go to bed to late: the next day will be the most important of your life and you need to be fresh and in a good shape 😊
For any suggestion, please get in touch