Wedding bags and kits
If you're wondering if wedding bags and kits are mandatory, the answer is no. But they can be useful and your guests will see that you take care of them and pay attention to details. We're sure they'll appreciate them!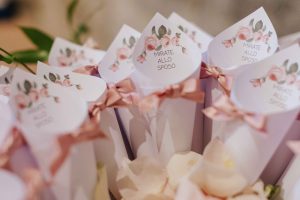 A wedding bag is a bridal kit. Brides typically put some tissues, a small bottle of water, a fan, the order of the day, confetti, a chewing gum or a candy in them. Of course, you're free to choose what to put in your wedding bags. In fact, you may want to add some sparklers for the cutting of the cake, soap bubbles, flip flops, heel protector, ibuprofen, hand sanitizer, mosquito spray…. Costs usually start at 3-4 euros each. You can choose different types of wedding bags: paper, jute, fabric and more. You could also buy them on Internet and personalize with your names and date.
Another kit that we love is the survival wedding kit you can place in your venue's restrooms. These wedding kits can be composed by tissues, deodorant, ibuprofen, chewing gums, band aids, hand sanitizer, sewing kit, deodorant, tampons, perfume, flip flops …. We can prepare a small basket for every bathroom. Especially your bridesmaids female wedding guests will love them! At every wedding we have ladies asking for some of these items. It happens that their feet hurt after wearing heels all day long and they need band aids or comfortable flip flops. Or your dress gets broken and you need needle and thread.
Last wedding kit we adore is the one dedicated to the small ones. A wedding baby kit will be appreciated by children, especially if you put some candies in them but some items they can use and play with. What about some papers and pencils, a customized small car or doll with their names, a crown or a puzzle?
All these wedding bags and kits can be customised with a specific design, with your names, wedding date, place of birth and more. Just use your imagination and
After all, wedding bags and kits are a good idea, do you agree? Let us know your opinion!