Wedding menu in Italy
What's the typical wedding menu when hosting a wedding in Italy?
There's no doubt that Italian food is one of the most popular cuisines in the world. That's probably one of the reasons why you chose Italy for your destination wedding.
We created a guide with some tips and suggestions to help you plan the best wedding menu for your memorable wedding in Italy.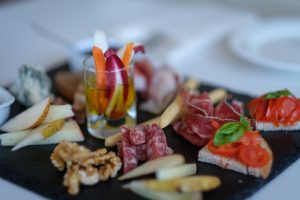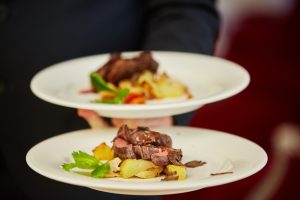 Aperitif: this is the start of the reception and it's typically a standing cocktail with a selection of cold and hot Italian appetizers. Many can be served on trays by waiters passing around, while others are part of the buffet, where you can find cured meat and deli meats, a variety of cheese, bread, focaccia, bruschetta and more. The drinks that are often paired during the aperitif are prosecco, wine and light cocktails like Hugo, Spritz, Mimosa, Bellini and fruit juices.
Seated dinner:  normally there are 4-5 courses at an Italian wedding. When you sit for the dinner, waiters will serve a starter (or antipasto), that is a small and light dish. It can be a salad, a pie, carpaccio, bruschetta. Then it's time for one or two first courses (or primo), that are typically pasta, lasagne, risotto or similar. After this come the second course (or secondo): according to the area where your wedding will be, it can be meat or fish. We remind that by the coast the prime ingredient is fish and seafood, while in the hinterland regions and areas is meat. To crown your wedding menu in Italy, desserts (or dolci) are served at the table or in a buffet. They can include tiramisu, panna cotta, cheese cake, cannoli. To end your Italian meal, a cup of coffee is a must together with limoncello, grappa or amaro.
Don't expect your guests to be able to choose the menu during an Italian wedding. The menu will be confirmed during your tasting. Of course, if there is any guests with special dietary requirements (allergies, intolerances, vegans, vegetarians) must be communicated in advance to serve them alternative dishes.
Also, kids usually have a simplified menu that is composed by a first course (such as pasta with tomato sauce) and a main course (burger or fried chicken cutlet with French fries).
Lastly, Italians normally don't mix fish and meat in a menu but it's your wedding day, feel free to combine them if you prefer so.
Wedding cake: an authentic wedding menu in Italy will include a Millefoglie wedding cake, a single-tier cake made of pastry layers filled with Chantilly cream. You can also add chocolate drops or fresh strawberries or berries on top and in the cream. Of course, you can request an American tiered cake, which is more photogenic.
Italian Confettata: this is a buffet where sugared almonds, called confetti (that are a wish of happiness and prosperity for the newlyweds) in Italian. Nowadays there are many types of confetti, with different tastes, colours and shapes (chocolate, pistachio, coffee, coconut, melon, limoncello, watermelon, cherry, strawberry and many more). Before they leave, guests typically fill a small bag of confetti.
Do you need any further information or recommendation on your wedding menu in Italy? Feel free to get in touch!