Wedding venues in Italy
With this post, we want to guide you through the most common wedding venues you can find in Italy. Our country offers a big variety of types of venues. Here we'll explain you the main features and differences among them. Please consider that venues that are in the same category can have very different styles: from more elegant and posher to country and rustic.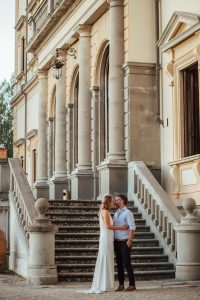 VILLAS:
Probably these are the most popular wedding venues in Italy. When we receive enquiry from couples, a lot of them are dreaming to get married in an Italian villa (possibly with a pool).
Often villas can be booked for few days and all or part of your guests could be accommodated on site. Some of them have been transformed into hotels and offer any type of service (pool, restaurant, bar, etc). While others have equipped kitchen(s) where you can potentially cook your meals. There are also some villas that can be booked for the wedding day only and don't have accommodation. Villas that have their internal restaurant can provide food and drinks for the wedding reception; in the ones that don't have it, an external caterer will be needed for your special event.
CASTLES:
For those brides who want to feel like a real princess, that's the perfect type of venue for you! Italy has a lot of old and Medieval castles and all of them are very beautiful and unique. Like for villas, many of them have accommodation on site while others can be rented for the wedding day only.
HOTELS:
These wedding venues are ideal for couples who want to have any comfort at hand. Hotels will offer food and beverages services such as a pool and Spa where you can relax. If you want to feel pampered and not to worry about cooking, going grocery shopping, buying some alcohol or going out for lunch and dinner, here you have everything you need. Most of the hotels where it's possible to host weddings are 4 and 5 stars. Sometimes it's not required that you book all their rooms.
AGRITURISMO, FATTORIA, BORGO:
Last but not least in terms of wedding venues in Italy, we have this particular category that is composed by country houses, farmhouses and groups of apartments. All of them are typically located in the countryside and the majority produces wine and/or olive oil and/or has a vegetable garden.
They have accommodation for guests and usually an internal restaurant, where they serve local, traditional dishes. They're sometimes family-run and you'll feel like being at home. The style is very rustic and country.
If you want to know more about wedding venues in Italy, do not hesitate to get in touch!