Why to get married in Italy?
Our country is very popular among foreign couples dreaming to say "Yes, I do" in a distinctive destination.
Today we'd like to point out all the reasons why you should get married in Italy.

Italy is one of the most romantic countries in the world! Just imagine your wedding with view on Florence, a gondola ride in Venice or a walk hand-by-hand in Rome.

The variety of Italian landscapes is unlimited: you can find lakes, hills, beaches, historical cities and villages, mountains… Everything in a country that is only 300.000 sq km like Arizona or half of France.
Italian food is one of the best in the world. For sure you love pizza, eat spaghetti or maccheroni with tomato sauce, lasagne with meat ragout and think they're delicious.
If you love wine, that's the perfect place where to exchange your wedding vows. Italy offers a huge selection of red and white wines. If you're wishing to get married in Italy, make sure you'll have a Chianti, Barolo, Franciacorta, Vermentino, Falanghina or Brunello wines at your reception.
We guess you had an Aperol Spritz some times at the happy hour (or "aperitivo" how we call it in Italy) or drank a limoncello, grappa or amaro after dinner. They'll be a must for your wedding in Italy.
This destination offers a lot of possibilities of amazing venues: elegant villas in Lake Como, breath-taking hotels in Amalfi Coast, borgo in Tuscany, masseria in Apulia, luxury hotels in Rome, palazzo in Venice…
Traveling in Italy is easy and affordable. All main cities have an airport and train station. If you love to drive, you could also hire a car to explore this territory.
If you love history, art and architecture, you necessarily have to get married in Italy: here you can see churches, villages and museums in every corner.
Administrative procedures for a religious or civil ceremony in Italy are not so complicated (and we're here to assist you!).
The weather is mostly sunny from April to October and temperatures are mild during spring and autumn while in July and August can reach around 35°C. In winter temperatures are around 5-10 °C but Italy offers a lot of outstanding indoor venues to hold a reception.
Wherever you decide to get married in Italy, you'll be ready to start a memorable honeymoon in the country, there are so many places to visit!
No matter what your wedding budget is, Italy presents good solutions for every need.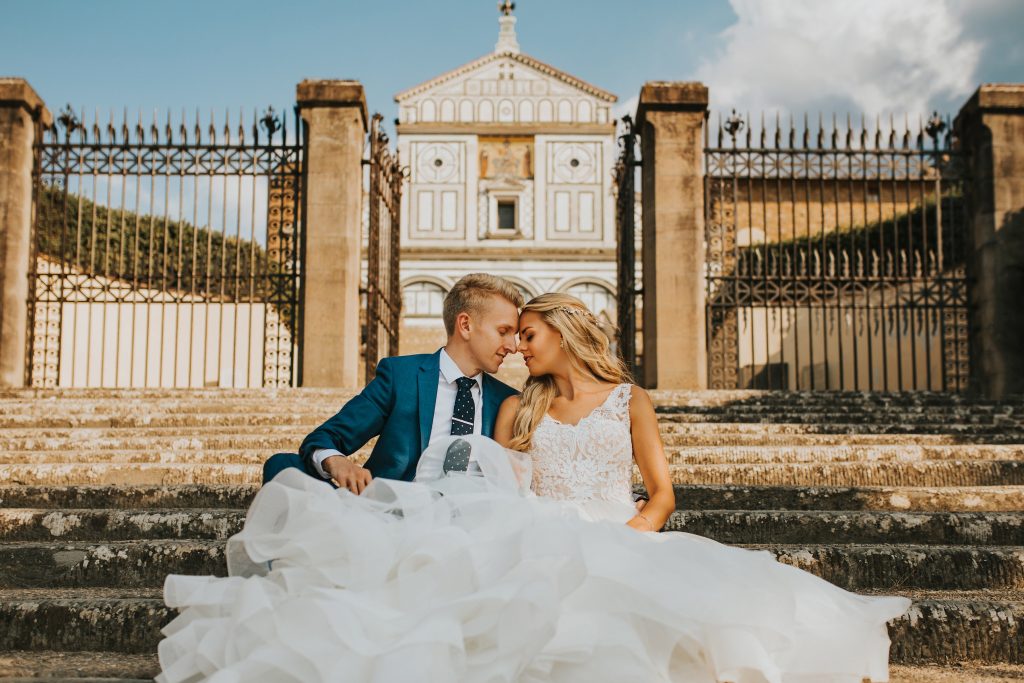 If you think we convinced you to get married in Italy, drop us a line or follow us on Facebook and Instagram!